Available in Bookstores now! And on Amazon.com!!!
Author Barbara Grufferman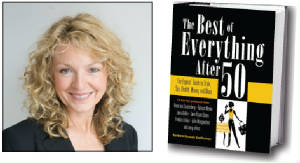 The Best of Everything After 50: The Experts' Guide to Style, Sex, Health, Money and More
is the essential handbook to being a healthy and strong woman over 50. It combines practical girlfriend-to-girlfriend advice from me, with professional expertise from leading authorities in women's health, nutrition, exercise, makeup, hair, fashion, finance, organization and sex, such as:
Diane von Furstenberg

on smart fashion choices

Frederic Fekkai

on fabulous hair at any age

Dr. Patricia Wexler

on the most effective skin program

David Kirsch

on exercise that really works

Julie Morgenstern

on organizing your life to get ready for what's next

Jane Bryant Quinn

on financial concerns

Laura Geller

on fast and easy makeup tips

Top Doctors from New York University

on key health checks
General Health & Heart Disease Prevention

.
Dr. Underberg is the Director of the Bellevue Hospital Primary Care Lipid Management Clinic, is an expert on Preventive Cardiovascular Medicine, and is involved in many
clinical trials in the areas of hypertension, lipids, diabetes, and cardiovascular disease prevention. (note:
Dr. Underberg is also an expert in the chapter on Heart Health).
Home Page for Barbara Grufferman's Book and links to buy book on line